Autumn has already arrived and now it's time to fill the house with decorative elements that evoke nature and that give us warmth. In this post we are going to talk about three decorative trends for autumn-winter.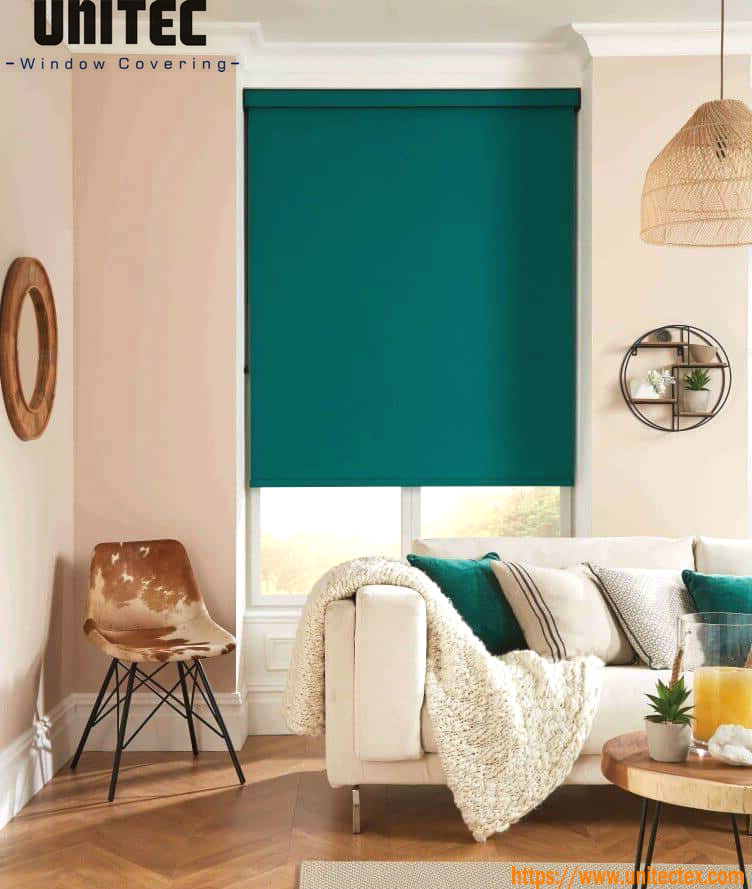 Colors
The colors of this fall winter will be beige, green and gray. You can use them as you want, either on walls, textiles, curtains or decorative objects. But the must have that everyone is betting on is the mixing of palettes. How to do it? It is simple, if you have a room with smooth walls in soft tones, dare to break with a large object such as the sofa or blinds in strong tones.
On our website you can find a wide variety of blinds fabrics with strong tones and bet on this decorative trend. In the image you can see an blackout green shade, an blackout fiberglass PVC perfect to protect the room from light and temperature. Combined with the cushions in the same tone it is perfect.
Mix of textures
Using textures and natural fibers in decorative elements is still in fashion, and if we add the mixture of various elements with different clothing materials we will create a very natural and harmonious environment.
Use of linen, cotton, wood, raffia … and all those products made with natural fabrics will give your room a perfect warm touch to make it unique. On our website we can offer you a 100% JUTE fabric roller blind in different finishes for your windows. A fabric with 4% visibility that will allow you to see the outside. Easily combinable colors in minimalist, rustic or classic decorative styles.
Open and bright spaces
Whether your home is a flat or a house, open spaces are still something that everyone wants. The kitchens and living rooms become multifunctional open spaces, these become a unique, dynamic and practical space. If we add to this trend of amplitude getting the most natural light, we have a perfect visual amplitude. To get the most natural light, but at the same time preserve the privacy of the room, it is best to opt for blinds or curtains with translucent fabrics in light tones. This type of fabric allows great passage of light, but you will not be able to see the outside or be seen.
In our catalog we have the TOP sales fabrics which available for roller blinds, vertical blinds or panel blinds. Of these three decorative trends for autumn-winter, which one do you choose?