There is a close relationship between Roller shades and new trends in architectural design, and it is summarized in the thermal, light and practical comfort that only the Roller System for Shades can offer to the huge windows that are being built more and more.
Modern architecture bases its style on minimalism, its main characteristic is the simplicity of both the forms and its interior decoration. Escape too elaborate ornaments, baroque or pompous.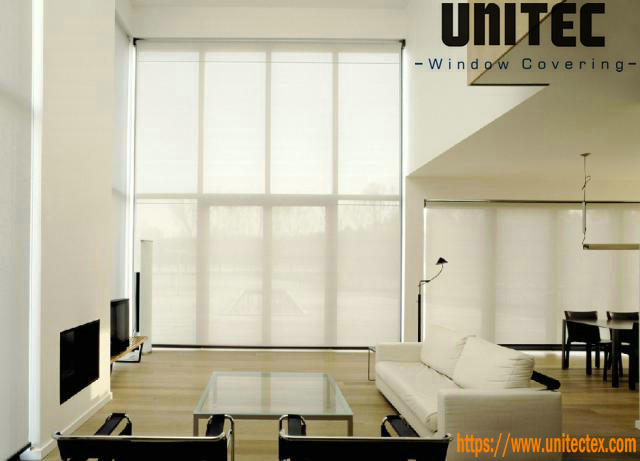 Following this idea, the element most used in new buildings is glass, more specifically large glazed surfaces in order to obtain brighter and clearer environments.
However, houses with double height windows, modern public buildings, hospitals, libraries, universities and airports often have problems when choosing roller shades. Solving it with blinds or shutters becomes a tedious, complicated, expensive and unaesthetic way of blocking the sun.
What kind of fabric meets the requirements of this architecture?
Roller Black Out Shades perfectly meet the requirements of this architecture: their fiberglass vinyl composition manages to block the sun by 100%, completely darkens the environments and prevents the passage of UV rays. Just as the Roller Screen Shades can be a better option for those who only want to attenuate the sun, allowing the passage of light but protecting the interior from the sun and UV rays.
But how is it that Roller shades are more practical than any other shades or blinds? The key is in the Roller System for Black Out and Screen Shades. The shades are easily rolled into a head cylinder that takes up minimal space and is driven by a super practical and lightweight chain. The movement is very simple, it does not require any physical effort, no matter how large and high the shades are. In addition, being able to automate their operation by means of a key or remote control, opening or closing them is extremely comfortable, going from day to night in an environment of great heights is possible.
The technology of the Black Out roller shades fabrics and the Sunscreen fabrics in addition to their Roller System makes these shades the perfect complement to control the temperature of such large rooms, where thermo-regulation equipment is not enough. Roller Screen and Black Out Shades have the ability to maintain freshness in hot weather as well as to retain warmth during winter, helping to optimize the energy consumption of air conditioning devices.
Roller shades are not only functional and practical for large environments, they also accompany the minimalist design decoration of modern architecture with innovation, simplicity, sobriety and elegance.