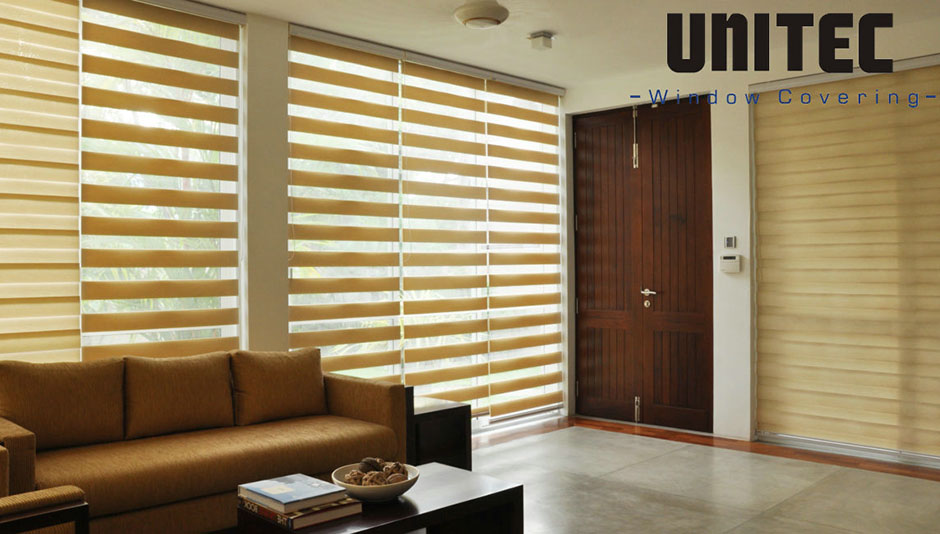 Zebra blinds fabric, also known as soft curtain, rainbow curtain, soft silk, dimming roller blind, double roller blind. A woven fabric woven from a small piece of a piece of fabric of equal width and gauze, which is fixed by one end and the other end is rolled with the shaft to achieve the purpose of adjusting the light.
When the gauze and gauze are coincident, the light is softer, which reduces the direct light to a certain extent. When the curtain and the curtain are coincident, the light is completely blocked, and finally the purpose of blocking the light is achieved. When you need to fully open the curtains, the curtains are completely rolled up.
The zebra binds fabric combines the warmth of the fabric, the simplicity of the roller blind, and the dimming function of the venetian blind. The curtains are easy to operate and have a variety of shades that do not interfere with the field of view. They are ideal for office and home window coverings.
UNITEC zebra blinds fabric are the perfect combination of two curtains in one, through a roller system we combine a curtain, a Heavy curtain or a Blackout, in this way we control the ideal light for any environment.
This type of curtains can be activated by means of a chain system and / or remote control.